19 Feb

Waves O' Fire Sculptural Firebowls™ Warm Winter Weather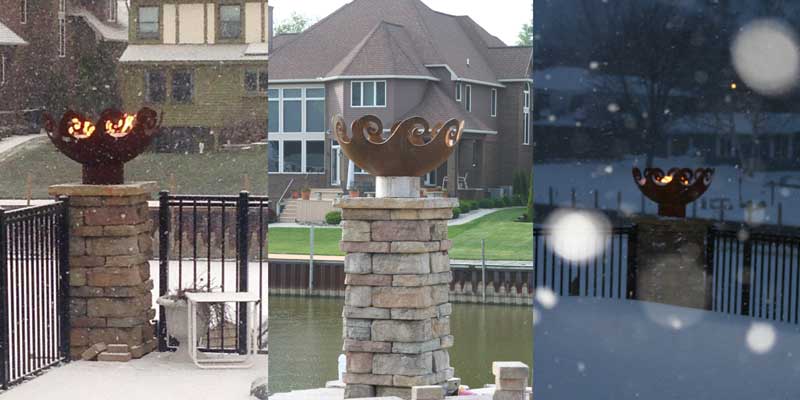 Melissa and Andy in Port Huron, MI shared photos of their Waves O' Fire Sculptural Firebowls™ in spring, summer and winter to show us how much she enjoys her firebowls year round. On Facebook, she commented "Still love our fire bowls. Especially when it snows!"
For most of us, gathering around the fire is a seasonal activity. In summer and fall a fire is a favorite way to spend an afternoon or evening. In spring, if it's not too muddy or wet, gathering around the fire is a pleasant return to the outdoors. In winter, well— most of us prefer to be warm indoors. But as a major part of your outdoor décor, the right fire feature can be enjoyed year-round.
Although you might not choose to sit outside around a fire on snowy evenings, you can still gaze out the window to enjoy the glow of flames. When all the flowers and leaves have gone for the year, a fire brings color to your patio, yard or garden… an inspiration for next spring's projects and a reminder of the enjoyments of the outdoors. A cheerful blaze can go a long way to offsetting shorter days and cloudy skies. In fact, fire gives off light in the same color spectrum as sunlight and can alleviate seasonal depression.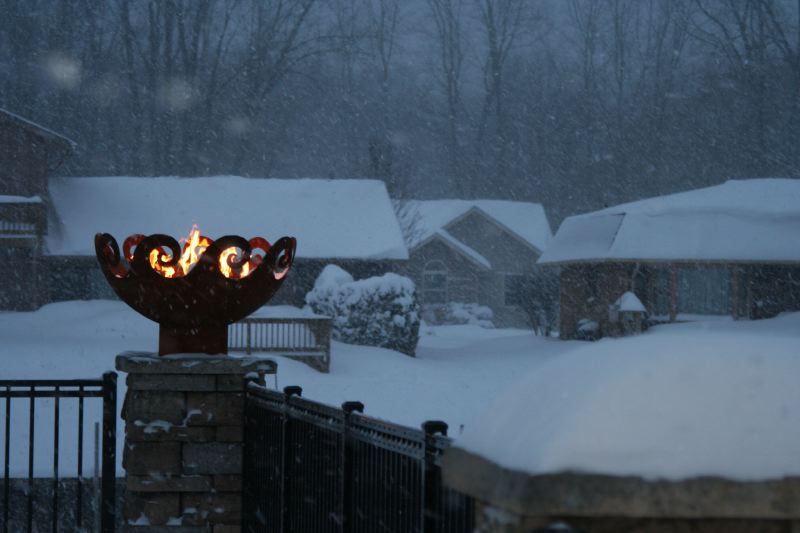 Looking at this photo, you can see why Melissa would say that winter is her favorite time to view the Waves O' Fire. There's something beautiful about watching snow flakes drift past the flames, a fire and ice effect that finds a spot of comfort in the extremes of the season. In a world where all the light has gone blue and cold, the orange flames are a beacon of hope and joy.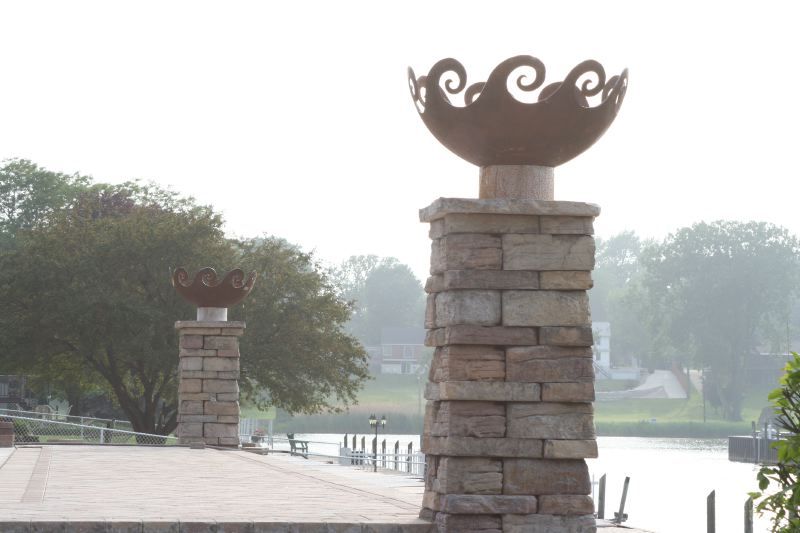 Melissa's Waves O' Fire firebowls sit atop stone pillars flanking the family swimming pool. Beyond the pool and patio, a canal connects to the Black River which in turn flows into Lake Huron. Like lighthouse beacons these firebowls light the shore but rather than warning boats of danger, they cast a light that says "here is home."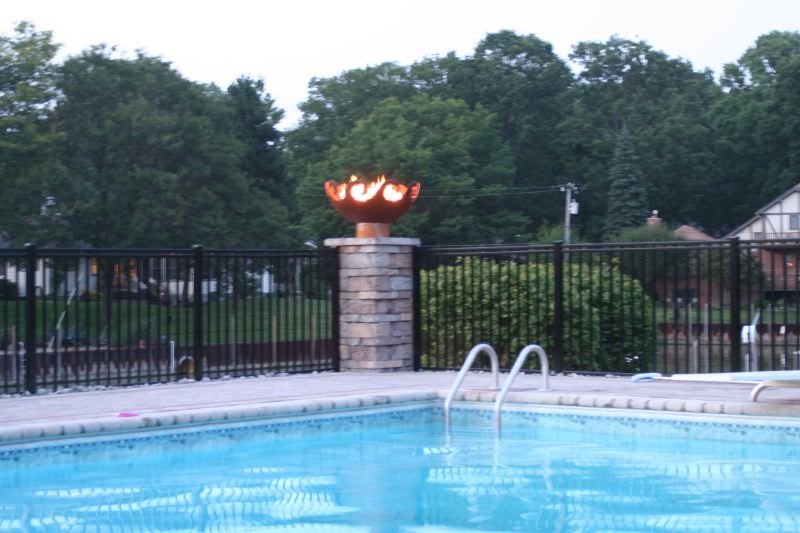 There is an obvious love of the water at play here, and the wave designs cut into the bowl speak to that. Whether swimming in the pool, boating in the canal or relaxing on the stone patio, Melissa's firebowls are an elegant way to light the family's outdoor activities. Gas burners make it simple and convenient to turn the flame on and off at will, so that the outdoor space is always ready for use. When her neighbors see Melissa or Andy outside, she says they often call out "Light those torches!"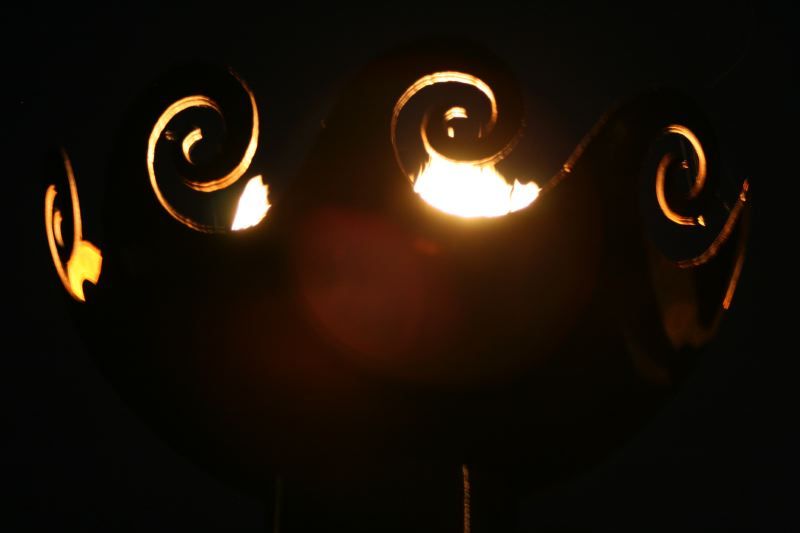 The Waves O' Fire is a popular design choice for homeowners with swimming pools or waterfront. The hand-cut stylized waves cast beautiful shadows on the patio or reflections in water. The play of fire showing through the waves can be a very powerful image, as seen above, marrying two opposite elements into a unified whole.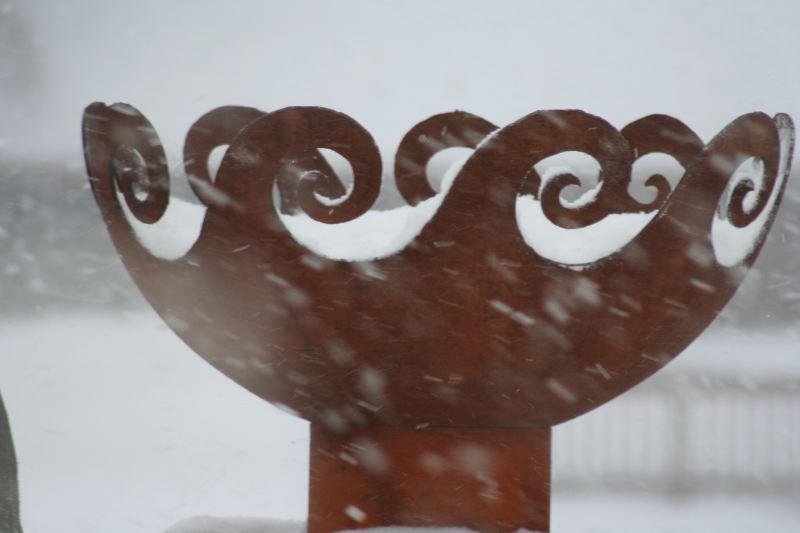 While most mass-produced fire pits must either be taken in for the winter or, at best, sit forlorn and filled with snow, Sculptural Firebowls are strong enough to survive the harshest of climates and look just as beautiful in snow as they do in the peak of fall color season. They are designed with the elements in mind and are intended for use in all seasons.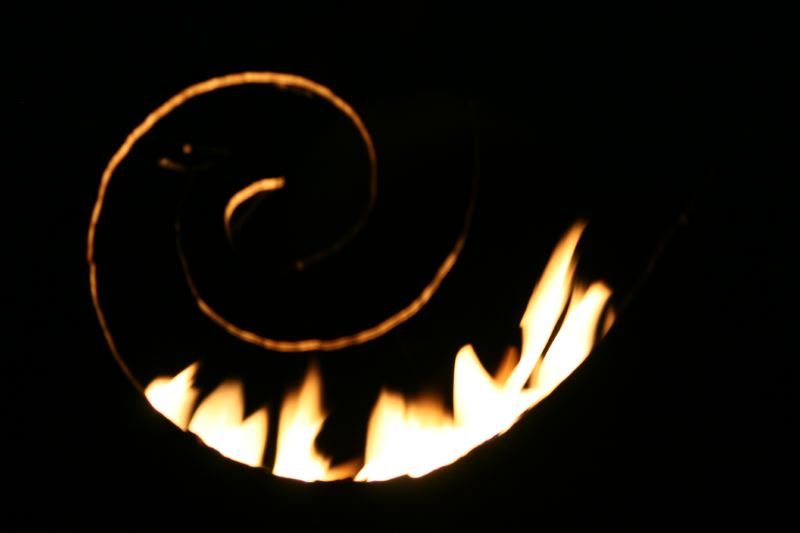 This last closeup photo of the Waves O' Fire always reminds me of a nautilus shell. When you design artwork by drawing on natural inspiration, you'll find that some of the simplest forms in nature repeat in interesting ways… and one form will echo another that can be quite closely related.