26 Jul

The Vulcan— A Custom Firebowl Design for Base Camp X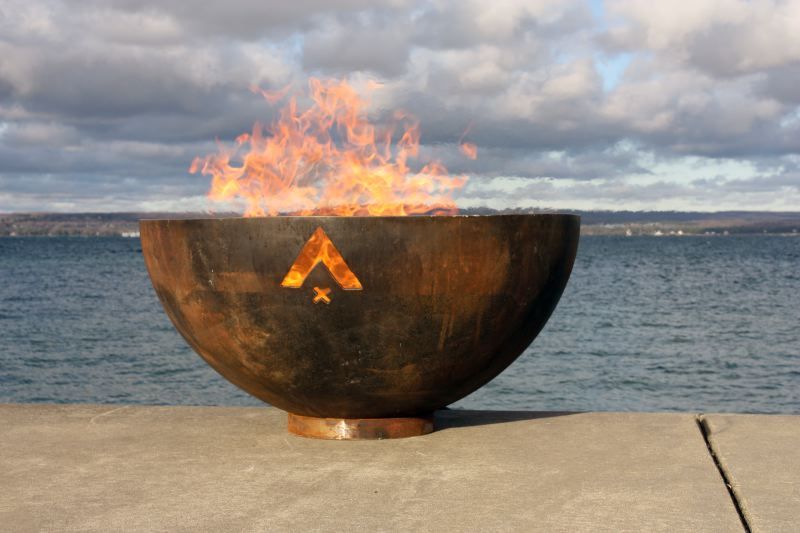 I had already done a custom firebowl for Graeme Cameron when he was part of Best Made Co., so when he left to form his own venture, Base Camp X, he asked me to do a new design featuring the BCX logo.
We called it the Vulcan and you can order it exclusively from Base Camp X. As Graeme describes it on his site:
Fire is a huge chapter in the story of Base Camp X. Our attraction to the flames of a fire pit is undeniable and can be found throughout BCX product design. Whether you are finishing a long day of paddling and portage, or just relaxing in your backyard – building a fire is a fundamental way to unwind and reflect on the day's events. Artist John T. Unger has created a perfect hemisphere of heavy duty steel on a slim, nearly hidden base, the BCX Vulcan Pit makes a statement without speaking loudly. Graceful, serene, modern yet classical. Vulcan holds its own council while inviting you to peer deeply into the fire and contemplate… just about anything.
We've shipped a number of these as they make a perfect complement to the high end axes and knives that are the staple of BCX. The logo of the tipi and campfire show up really well when backlit by the flame, even in bright daylight.
Graeme's response when he saw the first prototype was as follows: "John… this is just perfect buddy! Like I said before…. You are Vulcan. Wow wow wow! I love it. This is so amazing I am emotional… it's perfect." Mission accomplished.
The Vulcan also got a nice write up in The National Post:
the Vulcan is a perfect all-weather addition to a city back yard or cabin… and can easily handle this season's viciously plummeting mercury while still toasting your marshmallows.

For Base Camp X owner Graeme Cameron this is a foray into slightly different territory, since the brand is perhaps best known for their covetable axes which look as good mounted above a mantel as they do working their way handily through a cord of wood destined for a fireplace or fire bowl. S'mores or axes besides, Cameron and his family recently celebrated his birthday in the midst of a snowy January chill with sausages grilled over their Vulcan.