13 Jul

The Great Bowl O' Fire as Celebration of New Family and as Memorial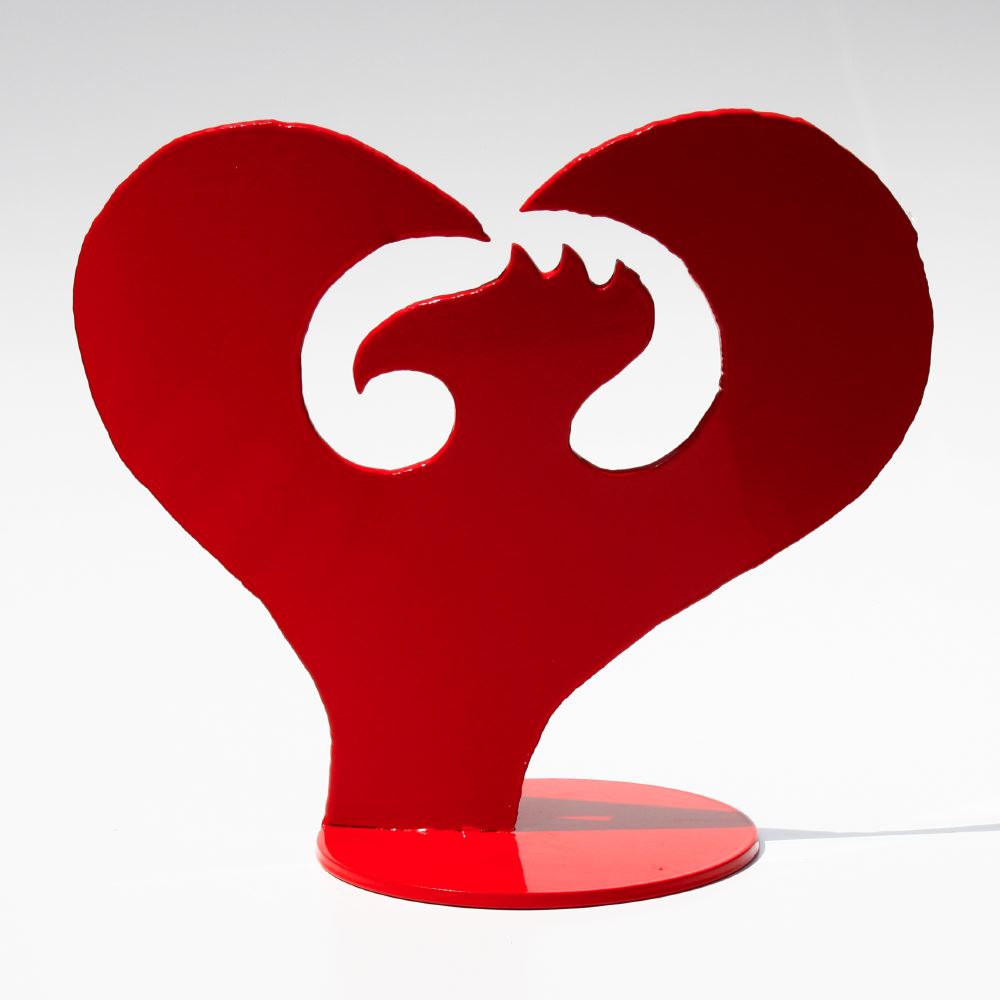 The second email quoted in this post brings tears to my eyes every time I read it. It is a beautiful, tragic yet ultimately inspiring letter. The woman who wrote these prefers to remain anonymous but graciously agreed to let me share her story and artwork here.
It's a story that reminds us of the power of art to heal. It's a story of art's ability guide us from grief into a renewed future of possibility. It's a story I'm really glad she shared, because after a long, dark winter of my own, it reminded me so viscerally of why I make art.
My hope is always that I can inspire others to find renewed or greater meaning through beauty. That the gathering of family and friends around a fire will bring them closer and make a space for them to celebrate love, friendship and life. That creativity can be contagious while carrying a cure for the world's ills. I make art to make joy. I make art to help people see the beauty in the whole world.
Her first email read:
I love your work! It resonates perfectly with my feeling of beauty of nature,imagination and art work that I do in my house. My daughter is getting married in August, and I want them to start a fire of a new family (maybe to make it a tradition). I'm thinking to buy the Great Bowl o'Fire and two torches.
She also called me, explaining that she wanted the bride and groom to carry the torches but wondered if they could be made lighter. We discussed various options, including using one of the torches as a wedding candle. In the end, we decided carrying the torches wasn't a good idea in case they became too hot during the ceremony. She did order a Great Bowl O' Fire.
The following day she sent this email:
I want to tell you our story because now you are becoming a part of it. Life is uncertain, unpredictable, beautiful, horrible, strange and magical. Almost like a fire, its flaming images, lights and shadows in your Great Bowl.

I was born in a beautiful and mystical land of Siberia. Its forests and rivers filled my heart with the love for nature that I carried through my life. We moved to US in 1992 with our three children who were 9 years old daughter and 7 years old twins (boy and girl). In some years we bought an old almost abandoned house in NJ. The house was in a poor condition, but in a very beautiful place with a small natural pond surrounded by the woods. There we started building our place. We cleaned the property with our own hands, built new house which I inlaid with the mosaics and painted with a dreamlike scenes. We built walkways, walls, arch that I also covered with the mosaics, planted a garden. The life wasn't easy but still like a fairy tale for me. I thanked God for the wonder and beauty of it every single day and night. But the creator is far more "creative" than a human being can ever imagine.

Two years ago our oldest daughter was diagnosed with the defused gastric cancer… in a matter of  moment the whole world crushed into dust… the beauty of life betrayed me… the mornings turned into nightmares… the nights turned into hell… For two years we struggled and fought for her life… She passed away this year on Valentine's day…

Our other daughter's wedding is going to be at our house that she loves so much. She wanted me to help with the decorations of the event, but it was so hard for me to start creating again. I tried, but nothing worked. Every flower in my garden was missing my darling daughter, every piece of my mosaics cried about the nonsense of beautiful things.

There is one center spot in our backyard, that I didn't finish— was out of the ideas, but I had to do it before the wedding. I just wanted to fill it with the flowers for the event, but happened to come across your fire bowl. It changed everything… It ignited my artistic spirit again that I thought was gone with my daughter from this place forever. The idea of fire that is life itself made me wanting to work again. The fire of the spirit of my diseased daughter who was so passionate, loving, beautiful, magical, fearless will always live in our hearts and lighten them with love. It is the fire, the energy, the light that everybody needs to go on and to start something new (like a new family for example). Your design is unbelievably perfect for my vision of beauty. I have a mosaic of a phoenix-girl on top of the fireplace inside the house, which is done in the very similar lines, as well as my other works around the house.

So that spot outside that I didn't know how to finish just happened to be waiting for your Great Bowl o'Fire. I find that so many things in life are not accidental but happen to be for a reason.

Thank you John for the fire of your art!
Wow.
I'm so moved by her story. Struck by her sorrow and loss, how it washed away the joy in life, family and creative work. But also quite inspired by the spirit of recovery that arises through renewed creativity and the promise of a new family. In the end her story comes back around to new life, new stories, new art, a new world. That's brave and wonderful.
When her firebowl shipped, I included an Eternal Flame Sculpture in the shape of the Phoenix. It felt right to contribute something to this renewal beyond the firebowl itself. I wanted to share an additional gift of rebirth.
She wrote:
I got the bowl! It is magnificent!! I feel that it really was meant to be here. Absolutely perfect for our house and happened at such a right moment. Thank you, thank you thank you! And one more THANK YOU for your generous and beautiful gift! I found a great place for it. I will be in touch, tell you how the fire starting ceremony will go and sent you the new pictures.
I'm so appreciative she took the time to write and let me know my work has helped. I needed a reminder of why I make the work I do. So we have helped each other, which is the beauty of art.
To Anonymous: Thank you for allowing me to play a role in your story. I hope that from here on, it becomes a beautiful fairy tale again without any of the darkness of old tales. I hope you do continue to make more mosaic and art. It's wonderful, beautiful work!<