26 Oct

Community Harmony Through Song & Play, Panel 3: Peace in the Park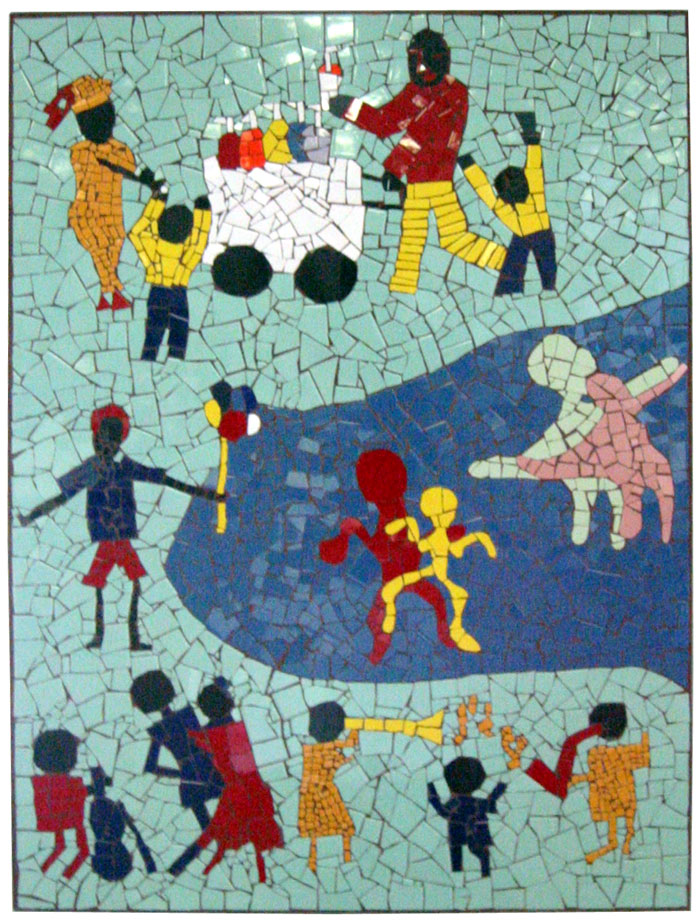 Community Harmony Through Song & Play, Panel 3: Peace in the Park, 2001
Ceramic mosaic on wood substrate.
66″ H x 48″ W x 2″ D
Public Art Commission
In the park a band plays, a man and woman dance, a child jumps to catch the notes in the air. Creative spirits float above a pond,
embracing. A man sells balloons and children get sno-cones from a pushcart vendor, a common sight in North Lawndale.
The park is clean and people are enjoying their neighborhood, free to play and relax. life is good because mutual respect
and effort have created a safe and joyful environment.
One of three mosaics created for Manly Career Academy High School in Chicago's North Lawndale neighborhood. Assisted by Caswell James
and advised by veteran muralist Nina Smoot-Cain, I worked with a team of nine community youths to design and produce three mosaic panels
totaling 66 sqare feet. Commission sponsored by Chicago Public Art Group with support from Gallery 37 and the Mayor's Office of Workforce Development.
To read a detailed account of the project, click here.