23 Apr

Big Bowl O Zen at Nada Restaurant in Cincinnati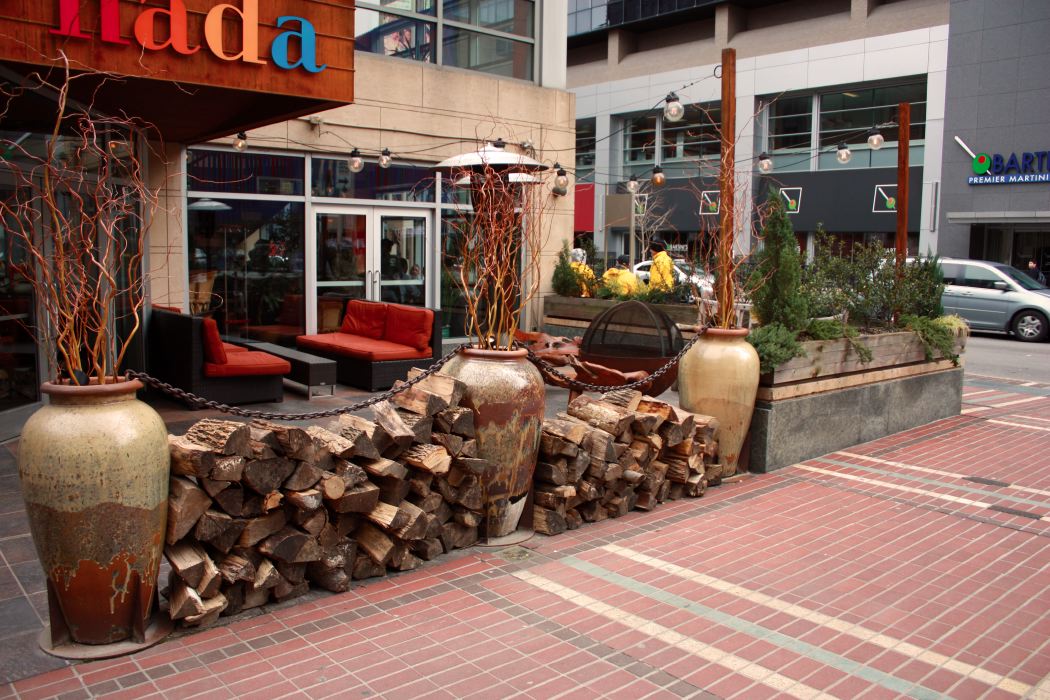 On the drive down to SXSW this year we decided to take a few days extra and enjoy the trip, stopping to photograph some of the more awesome Firebowl installations that were (sort of) on the way.
The first stop was Nada, a stylish purveyor of "ingredient driven, contemporary Mexican cuisine." The reviews on Yelp led me to believe the food would be excellent, which proved to be more than true. The pork green chili burrito I had was one of the best Mexican meals I've ever eaten, and the Mexican mac 'n cheese also lived up to the hype. Everything from the ambience, to the service, to the food and drinks was superb.
After we ate, I shot some photos and talked to General Manager Allison K. Shaw and Assistant General Manager Chris Smith. They both expressed how much the restaurant and it's patrons enjoy the 41 inch Big Bowl O' Zen™, which is lit every evening during the colder months. They told me that they remove the firebowl during summer to make room for more seating and that everyone on staff fights to be the one to take it home for the season.
I'll definitely have to return during the evening for dinner and some photos of the firebowl litup.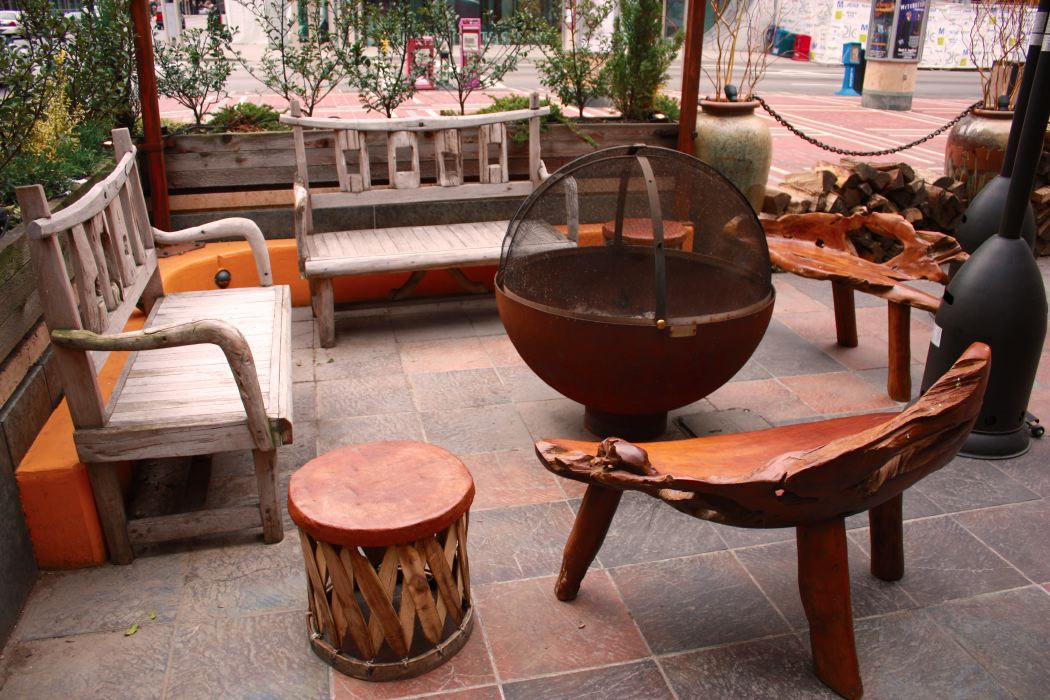 One of the design touches I really liked was the seating around the Big Bowl O' Zen. The fence-post back rests on the larger benches really appeal to me. I also liked the carved wooden benches that look like they come from the roots of giant trees.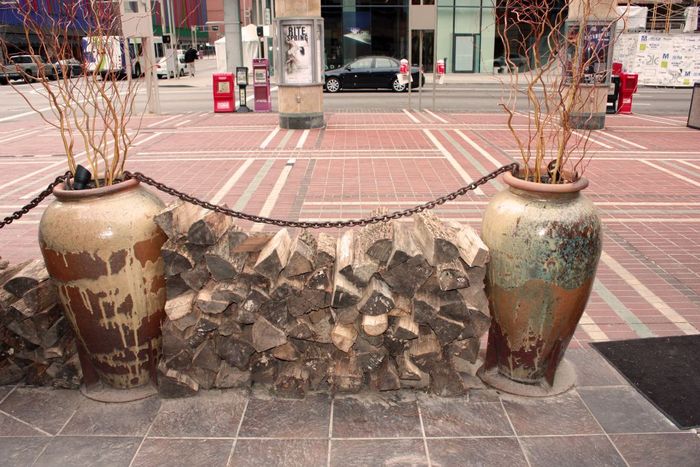 Firewood for the Big Bowl O' Zen is stacked between urns at the front of the restaurant patio, creating a nice visual effect and defining the space.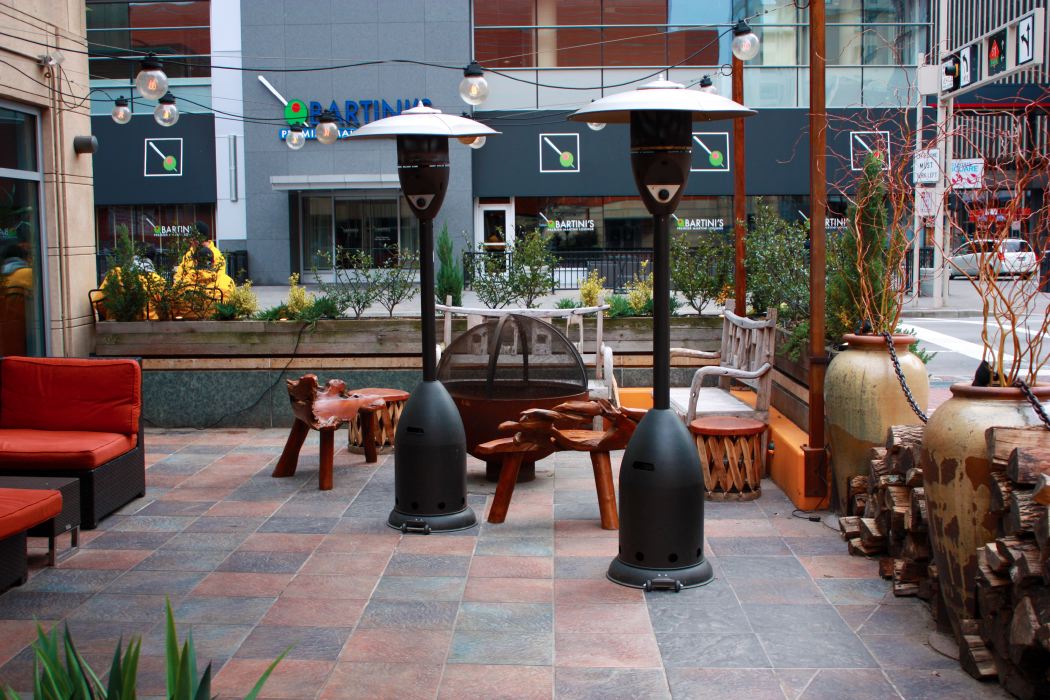 Heat lamps provide a little extra comfort. Because the restaurant faces a large open plaza, I suspect it gets a bit windy at times.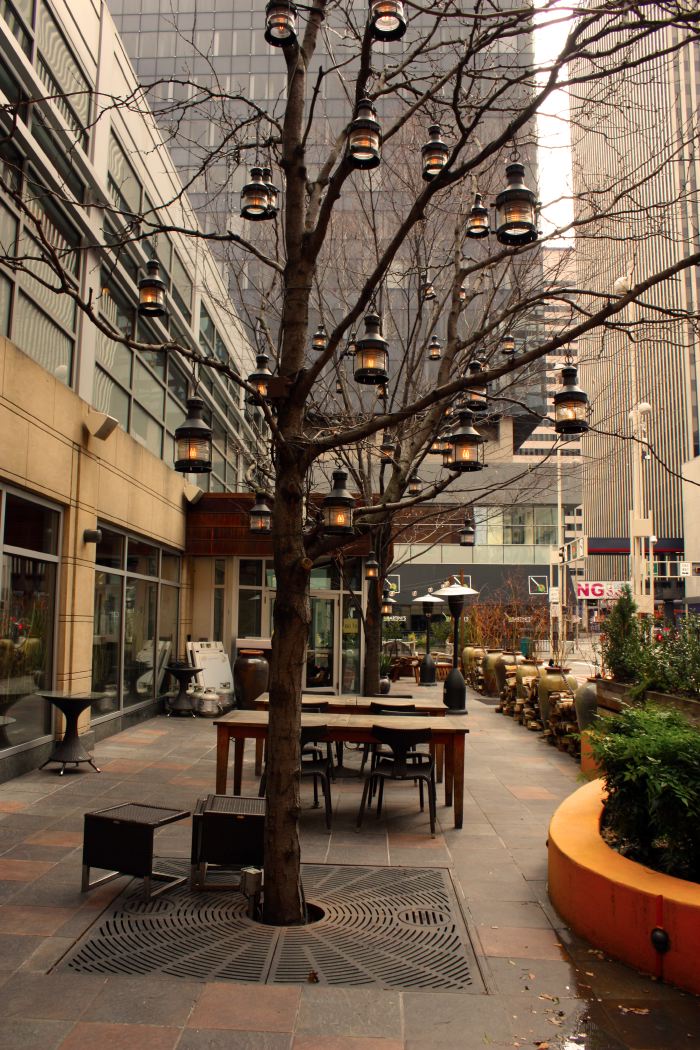 The Lanterns in the trees were one of my favorite design elements of the patio area. Even though it was a cold day when we visited, the lanterns incandescent filaments added a nice touch of warmth.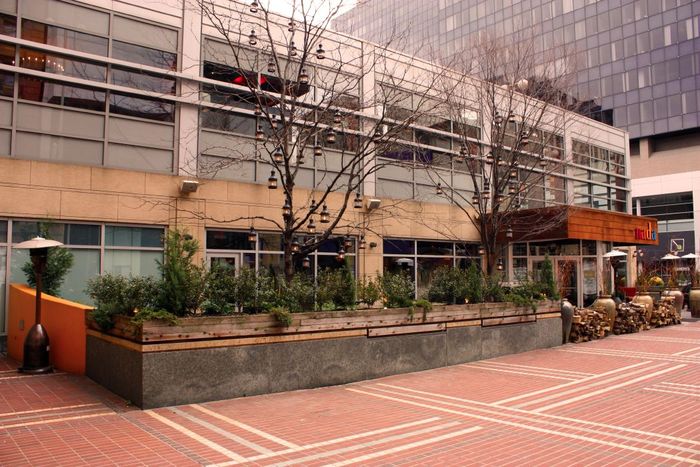 A shot from the plaza showing the front face of the restaurant and the firewood stacks for the Big Bowl O' Zen. The designer did a great job of combining modern architecture with rustic elements.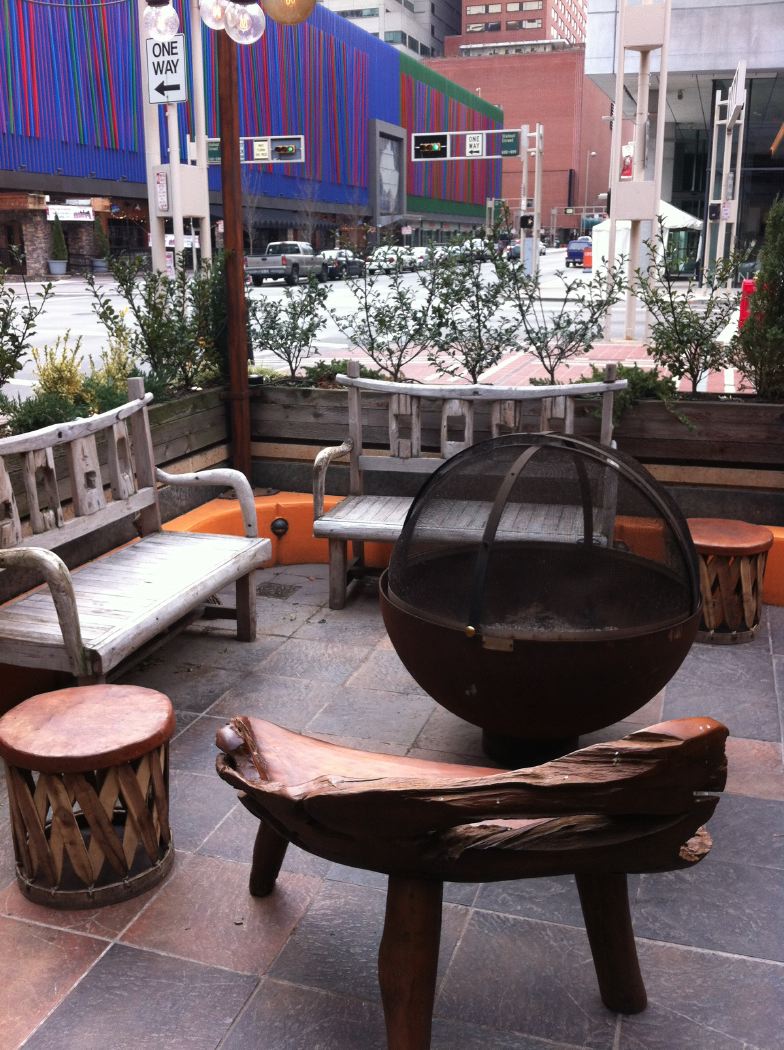 Looking toward Sixth Street and the corner of the Contemporary Arts Center directly across the street.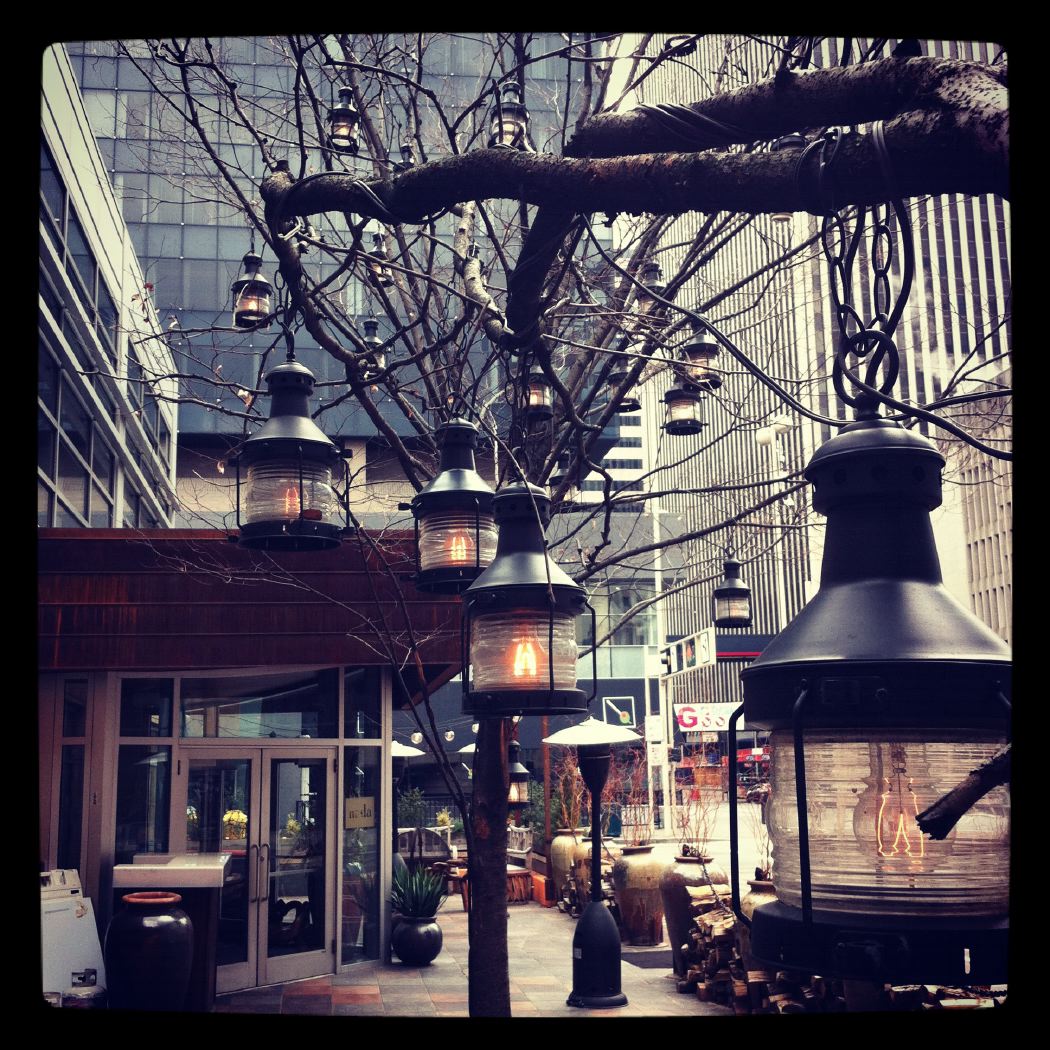 Closeup of the lamp filaments in the trees.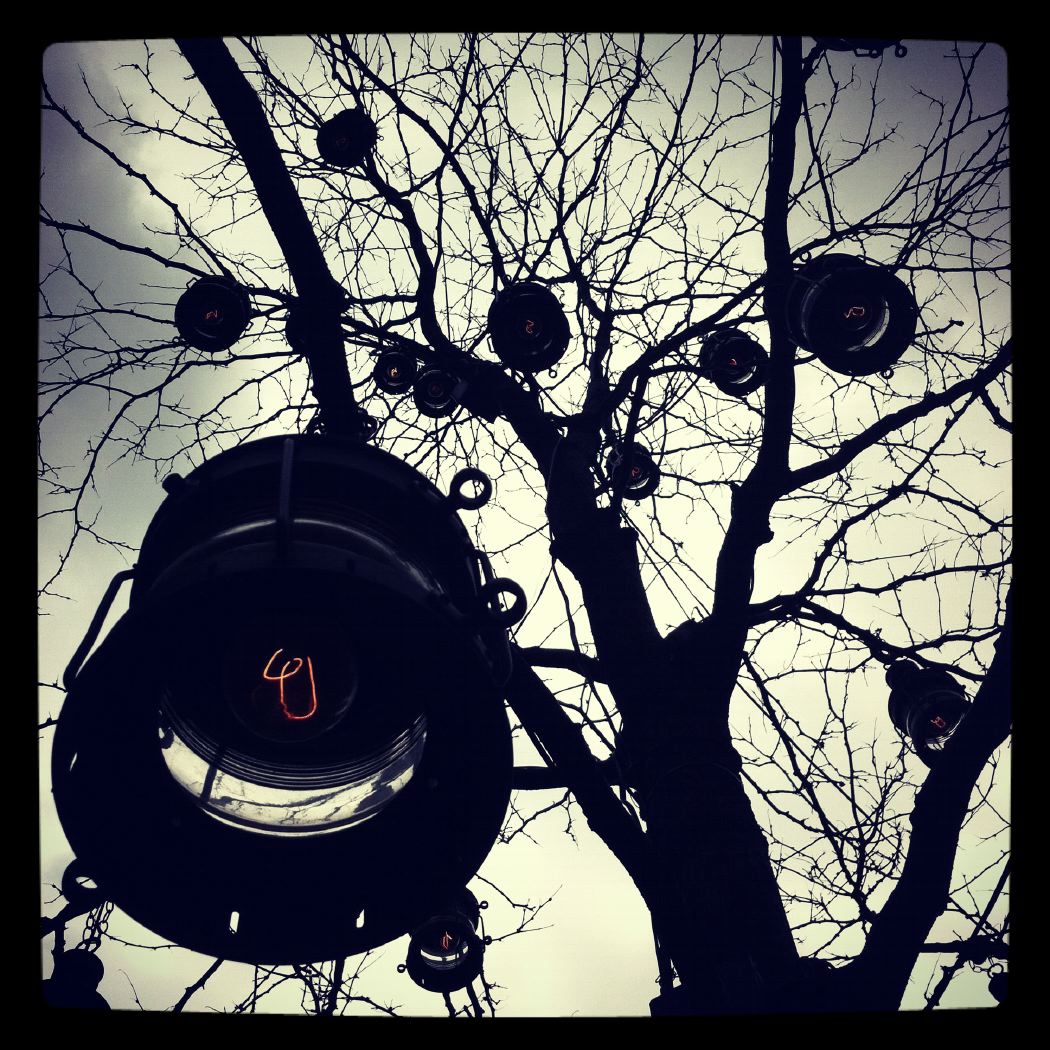 Looking straight up into the tree lamps at a wintery March sky.