13 Mar

Whitney Biennial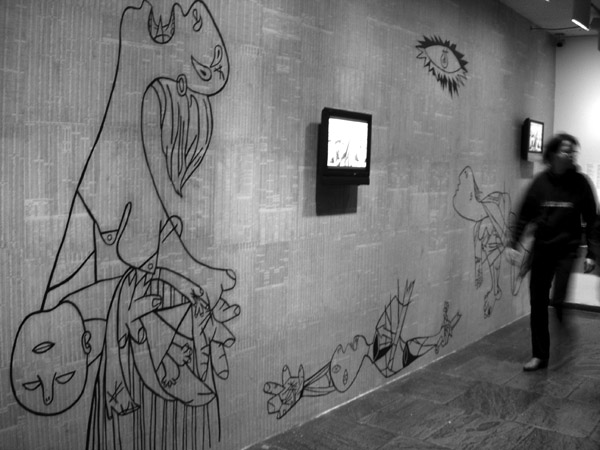 Here's yet another example of how blogs can make cool stuff happen in the real world, and foster collaboration between people who may not even be in close contact:
It appears that I sort of have a piece of art in this year's Whitney Biennial!
The "sort of" part requires a bit of explanation, I think. A while back, I posted a call for action: an attempt to get people to post Picasso's mural Guernica on billboards across the country as a war protest. It was part of a larger concept of large scale public art using open source techniques of collaboration. Well:
Last weekend, members of Visual Resistance installed a mural at the Whitney Museum.  Our friends at Deep Dish TV had been invited to show their Shocking and Awful series at the Whitney Biennial. They were assigned a 20-inch TV mounted on a 20-foot wall, which they wanted to spice up a little bit. They called us about 10 days ago and asked us to come up with a mural based on Picasso's Guernica.
So the Biennial catalog of the exhibit only lists Deep Dish Television, not even Visual Resistance, but I think that since the Guernica project
was designed as open source, in a way I can claim that the installation was an example of my American Guernica Project. And VR was kind enough to mention me in their account of the installation, so I know they were thinking about it:
Several months back, John Unger proposed an open-source art project called American Guernica. The idea was to put Picasso's painting on billboards throughout the US as a protest against the current wars being waged by the US. While billboard space is probably out of our range, working on this Whitney installation has gotten VR folks talking about using Guernica images on the street in New York.
The Biennial is widely regarded as one of the most prestigious art shows in the world, so, hey, I'd love to be able to claim some partial credit on this if it's applicable. I'm going to see if I can do some further projects with VR as the anniversary of the war comes up this week. They mention in their post that they're looking for someone to do Guernica stencils in Illustrator and oddly enough, I've been thinking of doing just that for the last few weeks. Funny, that.