12 Jun

The Vista Project, Open Source Public Art Sculpture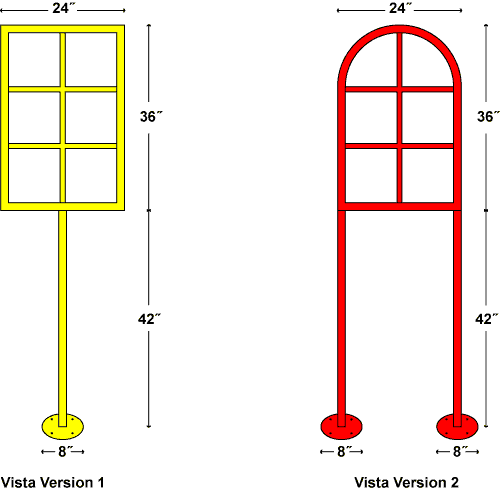 Vistas is a series of identical sculptures designed for installation in a site-specific context in multiple locations. The iconic steel window sculptures are intended to frame unconventionally beautiful scenery—views specific to the character of a place but unlikely to show up on a postcard. Examples of such sites might include a panorama of historically significant buildings, parks or gardens, a naturally occurring landmark or even an interesting shadow visible once a day. Vista windows call attention to unexpected beauty in the same way that a landscape photographer chooses where to stand and shoot.
The windows are finished in brightly colored powder coat enamels to increase visibility and give them a friendly and inviting appearance. Powder coat enamels are environmentally friendly and are among the most durable finishes available for outdoor work. For safety, no glass is used.
Vista Project Details/Design Specs:
Vista Sculptures are inexpensive

Opens participation in the project to arts or community groups with limited budgets.
Makes private or individual sponsorship practical.
Makes Vistas a good project for under served areas deeply in need of public art.

The Vista Sculpture Project is scalable. Communities decide how many sculptures make sense for their project based on budget, population, and size of neighborhood.
Each Vista Sculpture is a site-specific work interaction with the specific, existing landscape is a critical component of the
success of the Vista Project, and yet the project functions successfully in any geographic location.
Vista is designed to involve the community on a grassroots level. Purchase of the sculptures will include a website which enables members of the community to submit photos of suggested locations, vote on proposed locations and discuss the project*. The website will also support grassroots funding of the project using PayPal. Sponsors will be able to choose whether they wish to remain anonymous or make their donation public. The website will include sample posters, letters and press release materials which can be used to increase local awareness and participation in the project.
Installation of Vista Sculptures is simple and requires no specialized skill or tools.
Sculptures require only 4 bolts set into existing concrete and takes about 15 minutes.
Vista Sculptures require no maintenance budget. The powder coat finish is capable of withstanding extreme weather conditions for many years and is resistant to spray paint. The heavy steel construction of the sculptures discourages vandalism. If no plans exist to relocate the sculptures within the community, the installation bolts can be stripped or epoxied to insure against theft.
Vista Sculptures can easily be relocated.

This allows a small number of sculptures to be rotated to various sites or to be installed in temporary locations.
By rotating the sculptures to different sites, communities can make use of all suggested locations over time, insuring that no one who participates in the project feels left out.
Rotating the sculptures to new locations increases project visibility, keeps the project fresh and fun, creates a sense of discovery, and allows for "scavenger hunt" or "art trail" promotion of the community.

Vista Sculptures promote neighborhood pride. By increasing awareness of what is special and unique to the spaces in which they are installed and by involving the community in the selection of installation sites, Vista Sculptures increase feelings of ownership and investment in the community.
Vista Sculptures promote a sense of extended community and belonging Like Sister Cities, areas which participate in the Vista Project will have something in common. The sculptures may, in a way, foster community between distant locations. The website used to organize each project on a local level will also allow communities to see how Vista has been implemented elsewhere, creating a network of local, regional and global camaraderie.
Vista Sculptures can be produced quickly and to exact specs Your community can be sure the project is accomplished on time and on budget. No unforeseen costs or complications!
The powdercoat enamel finish is available in 100's of colors Communities can choose from a huge selection of colors, enabling Vista Windows to incorporate local team colors, meet zoning or council regulations, etc.
Vistas is designed to interact specifically with neglected, prosaic or ordinary urban spaces rather than the plazas or parks more commonly targeted for public art installation. Ideal Vista sites will increase public awareness of  the built and natural environment and how these interact. Hopefully the project will also reveal something about how "nature" functions in an urban environment in general—I feel that the most successful installation sites are likely to be places where urban planning and entropic reclamation of spaces overlap. The sculptures foster a deeper, renewed appreciation of place by pointing out less obvious ideas of beauty dependent on the character and use of a particular site.
The audience for a piece like Vistas is really "everybody" in the broadest and most intentional sense. Because Vista Sculptures are intended to be installed in everyday spaces…along sidewalks, near public transportation hubs or any urban  area which has substantial foot traffic but is not itself a "destination," I expect to reach a wide and diverse  cross-section of the urban populace. By stripping the piece down to its simplest form, it functions at an iconic level, inviting the audience to "make it their own." The work of Keith Haring and Scott McCloud (author of "Understanding Comics") convinces me that art that can function on a high critical level and still be completely accessible to the general public.
Vistas was originally conceived as a guerrilla installation at a time when I faced losing my studio. I sought large-scale projects I could complete without studio space, using common found materials and portable tools. Working on set building at Redmoon Theatre made me aware of how much could be accomplished with simple, everyday objects such as windows, doors, ladders, chairs—things which show up routinely in alleys and which carry deep associations precisely because they are so common in daily life. In refining the concept, I became convinced of Vistas' viability as a conventional public art project.