13 Jul

Shipping Container Studio Backstory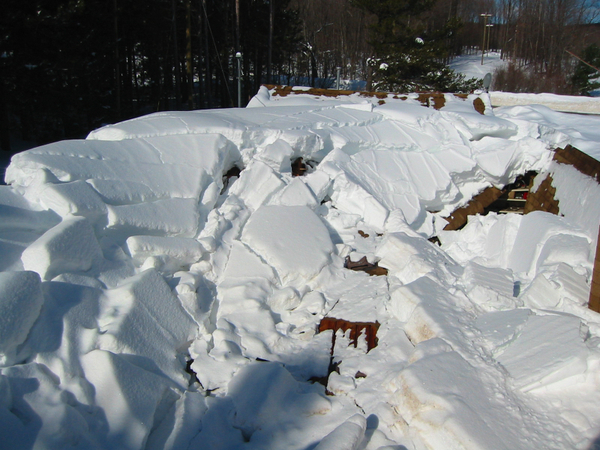 I've been working with architect Greg La Vardera recently to design a new home and studio for my property, built from six 40 foot shipping containers. He's been blogging about it here and here and I've been meaning to start blogging it since before we started. But before I start detailing the plans for the new building, I want to take a moment to look back at where this project really began.
On February 11, 2004 the studio building where I worked was destroyed by snow. I was standing on the roof shoveling when the building collapsed and pretty much rode the thing to the ground. I've posted a bunch of photos to Flickr.com that show the building during clean-up and demolition.
It was a pretty awful situation. I couldn't afford to move, and even if I could, it was the middle of a very nasty winter. The gas line into the house was severed when the building collapsed, so there was no heat, hot water or cooking. The pipes froze, so there was no water. It took three months to restore the utilities because the natural gas
company refused to run a new line until spring and all the
appliances had to be replaced by propane or electric units.
I was pretty ready at this point to give up the idea of making a living as an artist, certainly closer to giving up than I had been at any other time. In a word, it sucked. But I have this weird brain condition that seems to thrive more the worse the odds get. After thinking through the other options I could follow if I gave up, I decied that my best course of action was to dig in my heels, not quite and pull some kind of frickin' miracle out of thin air. Sometimes doing the impossible is just the easiest way to go.
When the bank came out to assess the damage, they liked the art they saw and proposed a trade. I did a $10,000 commissioned sign as the down payment on the remaining two buildings and acreage. I spent the months without heat working on the beginnings of the blogs that later became my main source of sales for the art. By the time spring did come, I was finally making a decent living solely through sales of art and commissions, and it's gotten better and better every year.
Anyway, even though it worked out pretty well in the end, the new building is gonna be all steel, concrete and glass. I'm done with wood. I want something that only a meteor or a falling 747 can damage, and that's what we're going to build. I'm planning to have at least the exterior and structure of the building done before the snow falls this year, and then the current buildings will be razed to make room for a couple display courtyards that showcase the art.
I've been dreaming of a container house for about twelve years now actually, and a lot of the design elements have changed over that time but some of them have remained pretty consistent. I'm in a position now to make that dream happen here and I'm excited about it. Over the next bunch of posts, I'm going to detail quite a bit of the process… mostly quoting from emails between me and the architects (I started with a different firm who was great on green building but did not have much experience with steel).