17 Feb

Ron English Does Guernica

Here's another use of Guernica on billboards that predates my idea, found via Blur Magazine.
The article linked above is well worth a read… well-written, to the point, interesting, etc. Check it out. Ron English does some interesting work, although I have to say I'm not a big fan of art that beats you to death with its message. I think that the Guernica image would be stronger on it's own, without commentary, than it is with huge slogans pasted over it. I do kind of like some of the other billboard work he's done that uses text without images. The Blur article has several examples, or you can visit English's site, popaganda.com.
Guernica also appears in some of his paintings, shown below. Again the painting is used as to critique western culture, but in what I feel is a somewhat heavy-handed fashion.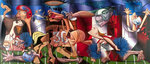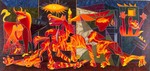 On the other hand, Arte Vista has this to say about the above work:
In his painting "Guernica, Red Air Raid", he explores Picasso's painting from an aerial perspective, from the point of view of the bombers. Using Mickey Mouse as the pilot adds the dimension of American pop-culture carpet bombing of other societies. The painting "Cartoon Guernica" explores a similar concept; however, this time the Picasso masterpiece is "Disneyized" into a more palatable image. The figures retain the exact poses of the original terrified Spanish citizens in the midst of slaughter, but here their little cartoon faces are just so darned cute. And the painting "Starry McNite" addresses the concept of a branded and franchised culture by infiltrating a beloved painting with America's two favorite franchises, McDonalds and the Church of Christ. It's a powerful exploration of the corporate branding of history and cultural identity. Nice brush strokes too.