30 Jul

Frankie Machine Community Garden Sign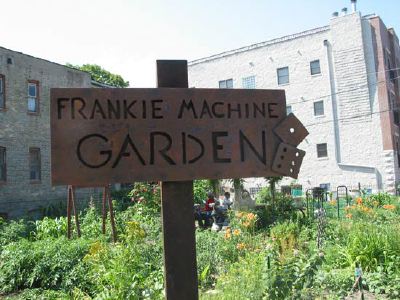 Here's a sign I did last summer for the Frankie Machine Community
Garden, at 1800 W. Hadden Avenue in Chicago. It never made it
onto my main website because there wasn't an obvious place to put it.
The garden had been having problems with Nelson Algren fans stealing
their signs as souvenirs (Frankie Machine is the main character in Algren's, The Man
With the Golden Arm, a book written in an apartment near the
garden's location). My oft-mentioned friend Neil has a garden plot there and asked
me what we could do in the way of a sign that would be as difficult as
possible to remove.
Frankie Machine is a community-managed garden, developed and
maintained by local residents. The garden is owned by NeighborSpace, a nonprofit organization whose mission is "to acquire
and support the community based management of small parks, gardens,
natural areas, river edges, and scenic landscapes in the City of
Chicago for preservation, conservation, and educational public open
space purposes." It's a great program, well worth checking out.