29 Jan

Drawing with the heat of 4.5 suns in your hand

When most artists say they are "on fire" they mean that they're inspired. When metalworkers say it, you should reach for the nearest entinguisher.

I make jokes about "catching fire a little bit" while working in the studio, but the truth is— there's a lot of sparks flying around when you cut and grind steel and no amount of safety gear is going to protect you completely. Just like line cooks get used to hot grease spattering, you get used to the sparks. You also get really good at removing hot pans from the oven.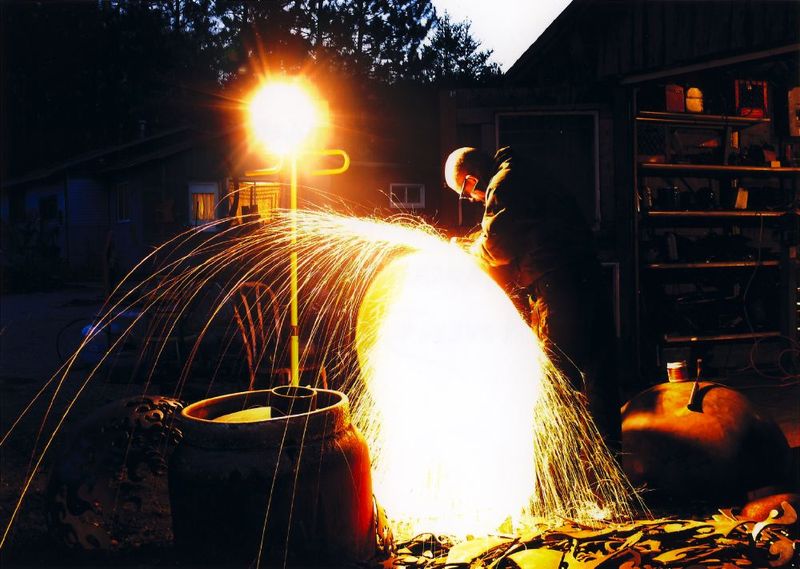 The carbon steel I cut firebowls from melts at 2600°F–2800°F. The handheld plasma torch I cut with is around 45,000 °F. That's 4.5 times hotter than the surface of the sun. Think about that a minute— I'm holding a torch that is more than four times as hot as the sun!
Because I'm holding the torch in my hand, my hands take the brunt of the sparks. For the most part, as you can see in the photo above, the sparks are on the other side of whatever I'm cutting. But there's a also a backsplatter of molten steel that shoots directly at the back of my left hand as I steady the torch. These sparks used to catch my gloves on fire pretty routinely. Even when the metal cools enough in the air not to cause a fire, it's still pretty hot and you can get a bit of a suntan inside your glove.
The thing is— in order to cut really intricate and smooth lines, you want to minimize the amount of safety gear that weighs you down and causes friction, while simultaneous preventing injury. Imagine trying to draw delicate lines while wearing hockey or football protective gear. Same thing really. And although its nice not to constantly set your hand on fire, as the metal builds up on the heat shield, it tends to catch on the surface of the bowl as you move, making it much harder to draw smooth lines.
Here's a photo of a new glove, a glove with a new Aluminized Carbon Kevlar® Heat Resistant Backhand Pad, and a glove with a kevlar shield that has built up a thick coating of molten steel over the course of a couple months. Kevlar, as you may know already, is what bullet proof vest are made from.