26 Apr

Business Cards People Will Save and Remember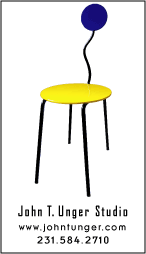 Do you have piles of business cards you've picked up, but no idea why they seemed important at the time? Have you ever wanted to get in touch with someone and started digging through a wad of cards, only to find that you can't tell one from another?
Has it ever occurred to you that your business cards might be in a similar pile? That someone may be looking at your card, scratching their head and wondering "Who was that person? What do they do? Why did I think I might want to get in touch with them?"
If so, that's a problem. Because if no one can remember why they grabbed your card, then really, they're not very likely to call. And if they don't call, well, hey, what's the point of giving them a card in the first place? You might as well write your number on their hand with a ballpoint pen… it's cheaper, and it'll hold their attention just as long (maybe longer).
So what do you want your card to do? At a minimum, it should do the following:
1. A card should entice people to pick it up even if you're not present.
The best way to do this is to make it interesting. That doesn't mean
that it needs to be die cut, or a funny size or a bright color.
Sometimes the most interesting thing is something that clearly solves a
problem. Especially if you leave your cards in places where people
whose problems you can solve will find it.
2. It should give people a reason to hang onto it, aside from the obvious.
The best way to do this is to make your card beautiful or remarkable in some way. It could be a sticker, or translucent or printed on wood. But whatever you do in terms of design should reinforce what you actually do. If it doesn't look like it came from you, it doesn't help people remember you.
3. It should remind people what they found interesting about you or your business.
Why you, over all the other choices in the yellow pages? What makes you special? If you can get that across in a 2″ x 3.5″ space, do it. Hugh MacLeod does it a few times a day usually, but then, that is what he does. It doesn't matter how many cards you give out… it matters how many people remember why they took them, and eventually call you.
4. A card should provide several ways to reach you and a way to learn more about you.
A blog or web site can go a long way towards helping people remember what they found interesting about you. In the process, they may find other things that interest them about your business.
5. There's no reason a card can't include a call to action, such as "present this card for a special gift."
That can get tricky depending on what you do, but it can also work well if it suits your business. A free cup of coffee would be bad for a cafe, because it's hard to tell if someone has already been in for their free cup. But say you run a deli… your card could offer people a free taste of something from the deli case. Every day, you let them try something new. It's a great reason to come back, and the more they try, the more things they might learn to want.
Here's how I make sure that my cards will be saved, remembered and used.
First off, I print my own cards. I make them in limited numbers… Say, 100 or so at a time. If I'm doing a large show or art fair I might print as many as 1000, but generally I find it best to keep the number down. There's a reason for that. I have a template that lets me lay out ten standard size business cards on an 8.5″ x 11″ page. It looks like this (click it to see it lifesize in another window):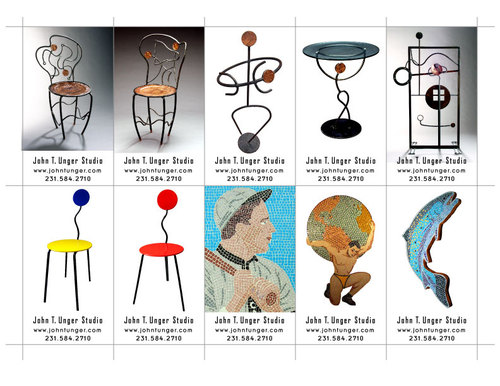 The text stays the same for each card, but I change the images every time I print a new batch. When I do an art show, I have cards with the image of every piece in the show. When I make new work, I make new cards. I keep some images in constant circulation, either of custom work I've done or of my "greatest hits," but basically, they're always new.
This system works for me on several levels
The most important is that when someone is interested in a particular piece or style of work, I can give them the card that features that item. That way, they always remember why they wanted it.
The side bonus, is that everywhere I go, I always have a mini-portfolio of my most recent work. When someone asks me what I do, I can show them. And then I get to let them pick their favorite card.
This approach might not be perfect for everyone, but if you're an artist or designer I strongly recommend it.