31 Oct

A Custom Firebowl Project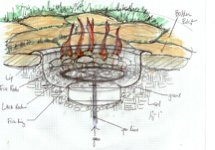 Mary Abe at Garden Gate Landscaping reached out to see if I could create a custom fire pit for an extensive landscaping project she was putting together. The project called for a buried fire pit set in stone with a steel lid and a remote control gas burner. She wanted something clean, simple, modern and industrial looking that could be set into a stone patio. She wanted heavy rivets or bolt heads set into a flat lip that would surround the bowl. Mary sent me a drawing to describe what she was thinking about.
No problem, I said. I've got just the thing in mind.
So I sent her a revised drawing, and over email and phone we hashed out the final design. The fire bowl was to be installed in Maryland and I'm in Michigan, which made it really important to address every issue in depth… once the bowl was shipped off, it would not be possible to make changes. It was important for me to be able to get photos, a verbal description and measurements of the intended site to make sure that everything would fit properly. The next three photos show the site prior to installation, as well as an amazing stone gateway that leads into the fire pit patio area.
UPDATE: Check out the new photos of this project here!
As the project progressed, we made some changes to the overall design… in each case the changes were based on practical considerations but had to work aesthetically as well. The lid had to be thick to permanently withstand the elements, and was also limited by the sizes of steel tanks I recycled to make the pit. Creating a custom domed lid from scratch would require a machine about the size of my house and probably 100 times as expensive, so that was out. The flatter domed tank end that I had planned to use was too small in diameter to cover the opening of the pit, so I added a stepped piece from another kind of tank and mirrored the rivets used on the rim. I think the stepped look adds to the industrial look that Mary was aiming for and ultimately we were all pretty happy with that.
But then we realized that the weight of the lid was a bit unwieldy… we discussed a few different options to address that. We considered hinging it to the rim, making it from copper (doable, but expensive) and cutting it in half. I was worried about cutting it because the heat of the plasma cutter would certainly warp the steel somewhat and might have made the lid difficult to fit back together. My favorite idea was to quarter the lid and hinge it so that it would open like a flower… Mary rejected this idea because of the potential danger of someone catching a shin on the sharp points. Well, yeah. But it would have looked pretty cool and I'd definitely be up for making a version like that if someone else likes the idea and has good liability insurance.
In the end, we decided to cut the lid in half and fit a thin bit of steel on the inside of one half to keep water out. I devised some guiding latches to insure that the pieces would fit together properly. As it worked out the lid held it's shape well and fit together quite snugly. There was a bit of distortion that creates a sort of fissure where the two lids meet, but with the seal below it actually creates an interesting feature that the client really liked. It's kind of like ceramic work I've seen where carved fissures are part of the design. Here's a few pics that show the lid before cutting, a detail of the fissure and the latches:
Here are a few pics of the bowl and half the lid.
And here's the entire finished piece right before it shipped out.
I talked with Mary and her client today to make sure the installation had gone smoothly and that they were happy with the finished fire pit. They were both ecstatic… The first fire was last night and went smoothly, and both of them made a point of saying that they pit had exceeded expectations and was much more beautiful than the process photos I had sent them (that would be the pics above, folks). Mary said she would send me some photos of the finished, installed fire pit tomorrow or the next day and I can hardly wait to see it. I'm told that the patina has taken on a great tone. I'll post the installed photos here when I get them.
If you like the look of my Sculptural Firebowls™ but want something tailored to your own needs or design, drop me an email. I'm always up for trying something new. You can see more custom fire features I've done here.